April 27-28, 2017 in Paris, France.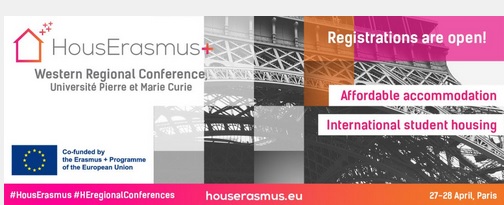 The Erasmus Student Network, Compostela Group of Universities, European University Foundation and UNICA Network of Universities as part of the HousErasmus+ project are organizing a conference on international student housing to be held in Paris, France on the 27-28 April 2017.
The event brings together stakeholders within the field of student housing and international students in order to exchange best practices and learn from the European-wide research the HousErasmus+ project has been undertaking in the past year. The event will be an interactive setting, exploring the latest results of the project research and what policy recommendations can be made for your country and region about student housing and international student support.
The first day will be a workshop for university and student representatives to exchange on their practices and learn from each other. The second day offers a chance to participate in a conference with international student housing stakeholders from the region and gain additional insights on this field.
More information about the project HERE