June 15-17, 2022 in Cork, Ireland.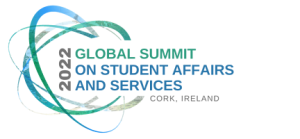 Registration & Call for Programs/Abstracts Open Now! 
The International Association of Student Affairs and Services, Student Affairs Ireland, the European Council for Student Affairs, and University College Cork are thrilled to welcome you to the 6th IASAS Global Summit on June 15-17, 2022, in Cork, Ireland. The summit will be offered virtually and in person.
This year's overarching theme is Cultivating Graduate Attributes to Empower and Sustain Educational Development. The summit topics are the following:
Global goals, local action: enhancing collaboration between Higher Education and learning cities
Equality: a matter of social justice in Higher Education
Implementing a sustainable campus
Higher Education Institutions: changing to achieve the SDGs
Student activists: startups and spin-offs to achieve SDGs
Scholarship in Higher Education
Supporting asylum seekers and refugees
Nurturing bright futures: cultivating graduate attributes
Integrating SDGs in Higher Education Policy
Linking SDG health research to improving lives
The changing landscape of Higher Education
To learn more about this year's summit please click here or visit the following website: iasas.global/global-summit-student-affairs-and-services.
If you have any questions, please email enquiries@iasas.global