May 30-31, 2018 in Nancy, France.
The Crous Lorraine organizes the second edition of Campus Cook, the French tradeshow of the professionals of university restaurants and catering to be held on 30 and 31 May 2018 at the Convention Center Prouvé in Nancy. This tradeshow is open to French participants and their European colleagues.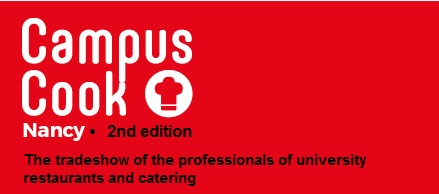 Campus Cook is the main event that allows the Crous network to promote its expertise in mass catering and its purchasing policy for quality, fresh, French and even local products. The goal of "Eating well" that we have imposed for several years daily guide the development of our services within our catering structures (restaurant, cafeteria, food truck, etc.).This tradeshow is also a moment of exchange between professionals specializing in catering, tenderers, our catering staff and our users (pupils from intermediate and senior secondary schools, students, apprentices, and school staff and academics). The Campus Cook show offers also round tables on themes that engage the Crous network around common missions and raise interest for the users and the staff. We expect your teams to be involved in these debates initiated around the qualitative selection of products (respect for the environment and the nutritional health of young people) used in our structures and to enjoy this free of charge event as our guests.
Group visits can be organized upon request of participating institutions.
Registration (individual or for groups) are already open on the tradeshow website:  www.campuscook.fr
More information in the programme