July 5-7, 2023 in Neustadt, Germany.
Register now for the European Student Affairs Conference 2023, taking place in Neustadt on the beautiful Wine Route in the West of Germany, July 5-7, 2023.
This large conference on public student services in Europe is jointly organised by ECStA, the STW Anterior Palatinate as a host institution and the German National Association for Student Affairs (Deutsches Studierendenwerk – DSW).
This year's theme is "Shaping Change in Student Services – How can we transform crises and challenges into positive change?"
Campus life ha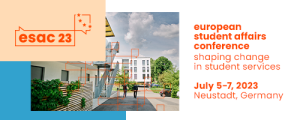 s changed dramatically in the combined public health, economic and geopolitical crises that have exposed students, higher education institutions and student services to profound change. Students' well-being has suffered from the effects of the pandemic, inflation, and rising energy costs.
With more online-learning and off-campus living, times have changed forever, and student services must find solutions to new questions such as:
  How can we impel change for positive transformation?
What kind of change is necessary in the ways in which we provide services to students in the fields of housing, counselling, dining, culture, international cooperation etc.?
 How can we manage this change strategically?
How can we build resilience, ignite change and take everybody along on the journey?
The conference is a major venue for professionals in European student affairs and services, and brings together experts and colleagues from the fields of public student housing, dining services, social and psychological counselling services, cultural activities and international affairs across a wide range of publicly organised student service organisations.
The event is a continuation of the Polish-German and French-German conferences that DSW has organised with international partners for since the 1990s and 1960s respectively, in a new European format.
More information on the conference is now up: https://www.studentenwerke.de/en/content/european-student-affairs-conference-2023
Deadline for registrations: 30th of May 2023.
This is your opportunity to share ideas and network with colleagues from across Europe!
Please contact Internationales@studentenwerke.de if you want to present a particular theme, good practice or analysis to a larger audience.
And please share this message with your interested colleagues and networks.
For more information, do not hesitate to contact office@ecsta.org.